Rank YouTube Videos Fast: Step-By-Step Instructions To Rank YouTube Videos In 2022
Nov 24, 2021


Rank YouTube Videos Fast: Step-By-Step Instructions To Rank YouTube Videos In 2022
If you are looking for a no-nonsense guide to getting more views and subscribers on YouTube, then this is the tutorial you've been looking for! Even beginners and completely new channels can use this strategy to quickly rank YouTube videos, and start building their audience on the platform.
Why Rank YouTube Videos?
If you've ever wondered what it means to rank YouTube videos, this beginners guide to will show you everything you need to know to start getting organic traffic from YouTube search results.
Obviously, you rank YouTube videos so that they show up in Google search results. But why is this important?
- YouTube is the 2nd most visited website on the internet with over 1 billion unique visitors every month!
- It's also the third most valuable US brand , worth nearly 75 billion dollars - Every minute, 300 hours of video are uploaded to YouTube! - Almost 5 billion videos are watched on YouTube every single day !
If you're trying to rank your videos at all, then rank them well. Don't just settle for getting views on one video and leaving the rest to collect dust. Solidify your presence as an authority by ranking more of your videos in YouTube search results using this guide.
How long does it take to rank YouTube videos?
Many experts, coaches, and gurus will tell you that ranking on YouTube can Google can take months, but that simply isn't true; especially if you use the proven method to rank YouTube videos described in this article. The truth is, YouTube videos can rank on the first page of YouTube, and even on the first page of Google search results overnight when optimized correctly. That means that if you have an idea for a video about a popular topic or keyword, you can upload it and get thousands of views the very next day using advanced YouTube SEO techniques. If you really want your channel to grow fast (who doesn't?) than your goal should be to consistently rank YouTube videos, so that you can show up on page one of search results for your Google key words.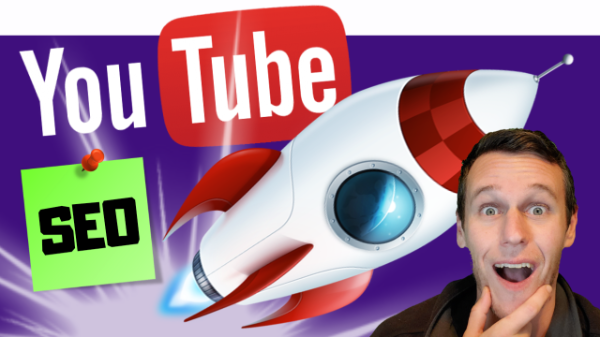 Is it hard to rank YouTube Videos?
New YouTubers often wonder how hard it is to actually rank YouTube videos, and are surprised to learn that it is actually quite easy. Ranking YouTube videos takes much less effort than rank videos on other platforms like Facebook or Instagram, thanks to the 79-step YouTube mastery checklist. By following the 79 steps, anyone (including beginners with new channels) can start ranking YouTube videos on the first page of Google and getting free views from search results using SEO best-practices. If you can follow instructions, you will be able to easily rank YouTube videos in 2022 using this checklist.
What are the steps to rank YouTube videos in search results?
Ranking on YouTube is simple. The YouTube mastery checklist has all 79 steps you can possibly take to get the best rankings, but here is a quick summary:
First, start by creating videos that target keywords with high search volume. Second, optimize your YouTube videos to rank in Google by using your target keyword (and keyword variations) throughout your title and description. Third, add links back to your website or other social profiles (like Facebook) into the description of each video (in other words, create backlinks to your website from your videos.) You should also create backlinks on other websites linking to your YouTube videos. Fourth, publish your YouTube videos on Web 2.0 blogs like Tumblr and WordPress to get even more views from Google search results. Fifth, upload one video per day (or as many as you can manage.) Finally, focus on driving as much traffic to your video as possible, because engagement is one of the major ranking factors. In other words, the more watch time you get, the faster you will rank YouTube videos.
How to optimize a YouTube channel
Of course you can optimize YouTube videos to rank in search results, but many people completely forget to optimize their entire channel. Optimizing your YouTube channel is a great way to get even more views an subscribers, because you channel itself will start showing up organically in YouTube and Google search results. When someone searches a keyword relating to your brand or product, your channel will show up on page one if properly optimized. Having your channel show up on page 1 for your keywords is a great way to increase your click through rate and increase your watch time, which are both factors that can improve your rankings even further.
Creating YouTube videos that rank
What is the process for creating videos that rank high on YouTube? Depending on what type of content you create, the process can be extremely simple; especially if you want to create YouTube videos without showing your face. No matter what type of content you create, the most important factor if you want organic traffic is to create videos around topics with high search volume. By targeting keywords with specific search intent, you can create videos that have the answers people are searching for. Even before beginning the traditional optimization process (video seo best-practices) ensuring you are creating videos that people actually want to watch is super important. If you make a crappy video, no matter how well you optimize it, it probably won't get many views. So if you are going to bother spending time making a video, make sure it is a video worth watching!
Optimizing videos so they rank on YouTube
After you've created a video that people actually want to watch, the next step is optimizing it. Assuming your video is engaging enough that people who click on it will keep watching, the next piece of the puzzle is actually getting clicks and views. Having your video show up on the first page of search results for your keyword is the fastest way to get views on your YouTube video immediately, which is why optimizing your videos for SEO is so important. Start by using your target (or long-tail) keyword in your video title. Then, make sure this word repeats again in the description. You will also want to include some relevant links, timestamps, and hashtags within the description. Then, its time to add tags (again using your target keywords) and select all of your video settings, such as date, time, location, and whether or not your video is made for kids.
Free YouTube SEO checklist
The best way to rank videos fast in 2022 (for free) is using the YouTube SEO Mastery Checklist from How 2 Rank. This 79-step YouTube ranking checklist will show you exactly how to optimize both your channel and all of your videos so that they consistently rank on page 1 of YouTube and Google search results for your keywords. This checklist will teach you advanced YouTube seo, by walking you through each and every possible step you can take to rank YouTube videos. Not only will it show you how to rank your videos and channel, but it also shows you how to embed your videos on a free website, and rank that on the first page of Google as well!
Services that rank YouTube Videos
If ranking on YouTube sounds like too much work, or you just don't have time to learn all 79 steps on the YouTube SEO checklist; YouTube ranking services are perfect for you! Companies like Social Media Solutions Plus now offer not only video creation and video marketing services, but they are one of the only providers worldwide of legit YouTube ranking services. If you really want to dominate YouTube in 2022, check out their YouTube CTR manipulation services! With this service, Social Media Solutions Plus can actually start sending unlimited human visitors to your videos and website, starting immediately! If you want to learn how to do CTR manipulation yourself, check out this training from How 2 Rank.
Tools that rank YouTube videos
Rather than hire a company, some YouTubers prefer to rank their own videos using YouTube ranking software. Tools like this one help YouTube channels go viral by automating the SEO process. Not only will this tool do things like keyword and competitor research, but it will also generate SEO optimized titles, descriptions, and thumbnails. By using a tool like this, you can avoid the long process of learning SEO, and rank on YouTube without hiring a marketing agency. YouTube ranking software can be extremely powerful, so use with caution if you want to avoid getting your channel penalized!
Is it worth it to try and rank YouTube videos?
Ultimately, it is absolutely worth it to rank YouTube videos. Not only is organic traffic some of the most valuable website traffic their is, but the results of SEO build over time; meaning the more videos you rank, the more traffic you will get! For most YouTubers, getting more views means making more money. By that logic, ranking YouTube videos should be a no-brainer for anyone looking to make money online in 2022, or the future.