Can You Make Money On Tikok? Here's How Clever Creators Are Making Millions
Jan 20, 2022


Can You Make Money On TikTok? Here's How Clever Creators Are Making Millions
If you've been on social media at all in the last year, there's a good chance you've heard of TikTok. It's a video sharing app where users can share short, creative videos. And while it may seem like just a fun place to share goofy clips with your friends, some creators are making a lot of money on the platform. In this guide, we'll break down how TikTok works, and explain how some creators are making millions of dollars from 15 second videos. So can you make money on TikTok? The answer is yes, and we're going to show you how!
To make money on Tiktok, the first thing you need is an engaged following
If you've ever spent time trying to grow a social media account for business, you know that is easier said than done. Tiktok is different than other social media platforms when it comes to building a following fast. On Tiktok, by following a simple content strategy, virtually anyone can start building a following fast.
The first step is to see what other successful creators are doing. You'll want to pay attention to things like what hashtags and sounds they use, and what trending topics they are creating videos about.
Once you have an idea of what content works well on Tiktok, it's time to start creating your own videos.
Your videos don't need to be perfect, but they do need to be creative and interesting. Use humor, storytelling, and creativity to engage your viewers.
The final step is to promote your videos through social media and other channels. Share them with your friends and followers, and use hashtags to help them get found by other users.
In order to get as much traction as possible, and ultimately get your videos on the FYP (for you page) you will want to make sure your videos are engaging enough that viewers will want to watch the entire thing.
Since watch time is one of the most important factors to the Tiktok algorithm, it's a good idea to start every video with a powerful hook. By saying (or showing) something crazy at the beginning of your video, viewers curiosity will get the better of them, and they will stick around to watch your video instead of scrolling to the next one.
Another important factor for driving engagement and monetizing your following on Tiktok is to end each video with a call-to-action, telling your viewers exactly what you want them to do. Whether you want them to like the video, share it with their friends, or follow you on Instagram, make sure you ask for something at the end of each clip.
How To Monetize Your TT Following Without The Creator Fund
If you really want to make good money on Tiktok, the first thing you need to know is that there are more profitable ways to monetize your Tiktok following than using the creator fund. If you really want earn large amounts from your TT account, you will want to get started with affiliate marketing.
Affiliate marketing is a process where you earn commission for promoting other people's products.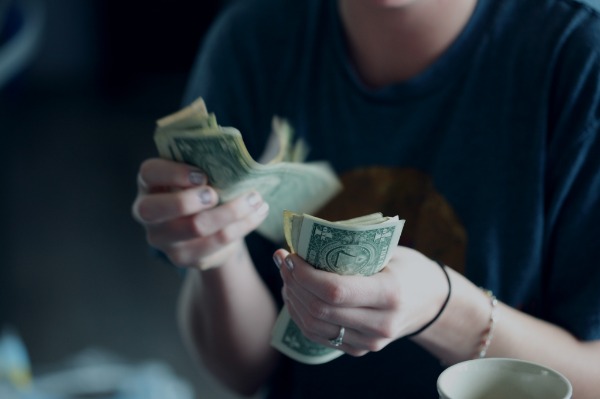 All you need to do is find a product that you believe in, and create a video explaining why your viewers should buy it. In your profile, be sure to include links to the product page so that viewers can easily purchase it. Not only does affiliate marketing allow you to make money from home, but it also helps promote products that you believe in. Since the entire Tiktok platform revolves around 15 second videos, it is currently the biggest source of free traffic for clever affiliate marketers.
How To Connect And Collaborate With Verified Tiktok Influencers To Supercharge Your Following
One of the fastest ways to grow on Tiktok (or any social media platform) is to collaborate with successful influencers. However, finding the right Tiktok influencers to collaborate with isn't always easy. Some content creators turn to Fiverr to find Tiktok influencers, but there are better options for those serious about Tiktok growth.
The best way to supercharge your Tiktok account is to buy shoutouts from verified Tiktokers at shoutoutsellers.com. When you buy a shoutout, you can be sure that you are reaching your ideal audience, by choosing an influencer in your niche.
Rather than spending time growing your account organically by just posting videos, buying shout outs from successful creators in your niche is a great way to instantly access huge numbers of engaged Tiktok users in your target audience. If you already have a large following on Tiktok, selling shout outs on your account is a great way to supplement the money you are making from affiliate marketing, and further monetize your Tiktok account.
Just how much money are affiliate marketers making on Tikotok?
It's no secret that many Tiktokers are making millions of dollars per year, primarily on Tiktok. However, the amount of money you can make on Tiktok really depends on how good you are at affiliate marketing. Some people are making a few hundred dollars per month, while others are making tens of thousands of dollars per day. The reality is, most Tiktokers make absolutely nothing on Tiktok; but that's because they haven't read this article, and realized how easy it can be.
Can you make money on TikTok? Yes, but there are a few things you need to do in order to maximize your earnings. Firstly, create videos that have a powerful hook- something crazy or outrageous that will get people's attention and keep them watching. Secondly, always end your videos with a call-to-action so viewers know what you want them to do. Lastly, explore other ways to monetize your following on TikTok such as affiliate marketing or collaborating with verified influencers. With the right approach, it is possible to make a good living from this exciting new social media platform.